Some may say that engagement rings are overrated and often, absolutely unnecessary. Be that as it may, engagements rings are quite significant. They are the first stepping stones (pun intended) to the start of a beautiful milestone and a lifelong commitment. And even though, traditionally, diamonds have been the go-to stone for engagement rings, the trend does seem to be changing. Maybe, the pure white sparkle of the diamond is just too mainstream. Or maybe the color of other precious stones is finally starting to bedazzle people. Whatever the reason, these five gemstones sure seem to challenge diamonds off its pedestal of eternal love!
1) Sapphire
In many cultures, sapphire has been said to symbolize the "Eternal Fire of Love" and fidelity. Thus, it is only fair that sapphire features first on this list. The beauty of sapphire is that it comes in shades as many as that of the sky. Right from the fiery blue sky of the summer to the pale blue of an overcast sky, it offers the perfect symbolism. Even though the stone needs to be treated every few years, it's a worthy sacrifice, especially when you know that it was quite a favorite stone with the British royal family- right from Queen Mother Princess Anne to Princess Diana.
2) Emeralds
Emeralds are one of the few gemstones that are rarer, harder and stronger than diamonds. Emeralds are said to symbolize rebirth and abundance of life- exactly the kind of blessings you need before stepping into the sacrament of holy matrimony. Moreover, the lush hues of the emerald bring with it a unique sense of hope and optimism, something that'll help to soothe the pre-marriage nerves.
3) Rubies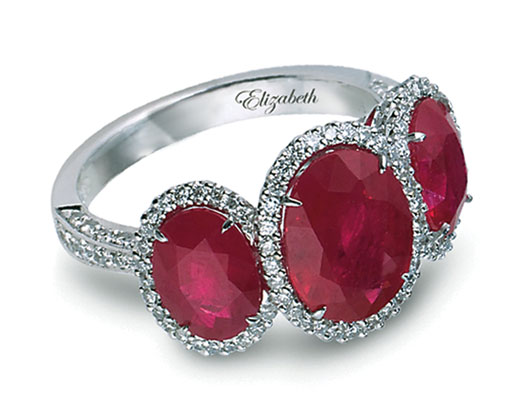 Considered as the stone for the royalty, rubies are a common sight in coronation rings and crowns. Rubies symbolize passion, desire, romance, loyalty and sincerity- the key ingredients in the recipe of a happy marriage. Like sapphire, ruby is as durable as it is rare. It is extremely difficult to not be entranced by its intense color. Trust us; there is no better way to keep your soul mate enchanted for a lifetime.
4) Amethyst
Amethyst is a member of the Quartz family and comes in colors ranging from lilac to brown! Amethyst has often been considered as a symbol of purity, spirituality and sincerity- important elements in every marriage. Agreed, that amethyst is fairly uncommon a choice for engagement rings. But, it has been a favorite throughout countless years of history, right from Catherine the Great to the Egyptian royalty- thanks to its royal color, thus, giving us a whole huge range of variety, not only in engagement rings but also fashion jewelry as a whole. Also, depending on the level of impurities present in the stone, and the subsequent treatment, the color of amethyst can be anything between deep purple to red. Thus, ensuring that even though you may be one of the countless loyalists of the stone, your stone still has its own individuality and beauty, just like your relationship.
5) Opal
The ancient Romans dubbed Opal as the Queen of Gems because of its stunning display of colors of every other gemstone. Opal is revered as a symbol of hope and purity, and sought for its property to disperse light into a breathtaking array of colors. Almost nobody opts for Opal as an engagement ring. But you should. Think about it; this stone is unique, colorfully versatile and very affordable as compared to other stones. And well, for what it's worth, there is nothing more romantic and worthwhile than watching that stunning color and light show the stone puts up just for the two of you.