While they aren't quite as popular as round brilliant or princess cut engagement rings, emerald cut engagement rings are one of the most eye-catching styles around. As the name suggests, the emerald cut was originally created for the green gemstone, which often has internal flaws that make it tough to cut. Because of its rectangular shape and stepped design, the emerald cut compensated for these issues while still producing a brilliant gem. After its initial applications on emeralds, the emerald cut eventually began to be used on other stones, including diamonds.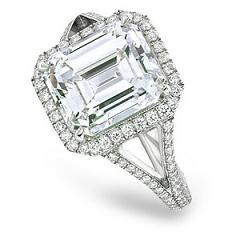 The History of Emerald Cut Rings
It is believed that the first engagement ring was given to Mary of Burgundy by the Archduke Maximillian of Austria in 1477. When the emerald cut entered the arena of engagement rings, it became a choice known for its straightforward elegance. Since that time, emerald cut engagement rings have remained popular with the elite while never becoming fully embraced by the general population. Some of the most famous emerald cut engagement rings of the last century have been worn by Grace Kelly, Elizabeth Taylor, Angelina Jolie, and Beyonce.
Because the emerald cut is a less popular/classic choice, emerald cut engagement rings are thought to express a strong personality that is both unconventional and timeless. It is a strong style that has long been embraced by many powerful women who were not afraid to buck the trends of their time.
An Elegant Cut
Emerald cut engagement rings have a highly elegant and sophisticated look that differentiates them from other popular styles of diamond rings. While brilliant cut diamond engagement rings have a greater internal fire than emerald cut engagement rings, the emerald cut compensates with a greater level of drama from larger and more intense flashes of light. The open cut is quite unforgiving to flaws, however, so anyone searching for emerald cut engagement rings should be very aware of the quality stone they choose. However, because emerald cut engagement rings are not as popular as round or princess cuts, they are often cheaper, making it easier for people to afford the higher quality required by an open cut. Because they don't need much depth for powerful light reflection, emerald cut diamonds often appear larger than other cuts of similar weight.
If you are searching for the right engagement ring to express your personality, browse through the selection of diamond rings at Dara's Diamonds. We have thousands of different engagement rings in solitaire and three stone styles featuring a variety of cuts, sizes, and diamond qualities that make an elegant ring possible on any budget. Our rings are classic styles that will last a lifetime, and each one comes with the lifetime warranty, lifetime maintenance policy, and lifetime upgrade policy you need to make it last a lifetime. If you need any help selecting the perfect diamond, our gemologists are happy to help. As you prepare for the commitment of a lifetime, shop Dara's Diamonds to find the perfect token to help you seal the deal.