Engagement rings don't have to cost a fortune, and they don't have to involve a diamond. Now, I know lots of people already realise this, but I've been somewhat slow on the uptake. When shopping for my engagement ring with C, I assumed I had to have a diamond in order for it to be a 'real' ring (whatever that means). Never did it occur to me to question why I 'had to have' a diamond. Never did it occur to me that gemstones are equally as pretty and often a lot less expensive. It was diamond or nothing, and I'm a little disappointed in myself for believing in such a rigid ideal.
I read a really interesting article on HuffPost Weddings today about the fallacy of the diamond engagement ring, detailing the commercial history of the diamond ring, revealing it to be one big fat marketing ploy.
Now, don't get me wrong, I am well over my initial engagement ring anxiety and I love my engagement ring, but I am a little annoyed at myself for not taking the time to explore all of the many beautiful gemstone rings on offer on the high street. I spotted a gorgeous antique style aquamarine and white gold ring when choosing my white gold and diamond one, and although C said 'go on, try it on' I dismissed it on the basis of it not being a diamond.
I'm literally shaking my head as a type at how silly that was! I was also really worried that no-one would realize a
gemstone ring
was an engagement ring, and even with my little diamond ring I sometimes worry that people won't know it's an engagement ring, because it isn't very big. I know it shouldn't matter, as long as you and your fiance know you're engaged, but it does sometimes cross my mind still.
There are plenty of gemstone rings that look engagement-y due to their settings, but there are also plenty that don't necessarily look like engagement rings. I know a few people who have beautiful gemstone rings that aren't your typical engagement style but I suppose if you really love the ring don't immediately let it's unconventionality put you off, especially as people seem to like hearing the stories behind unusual engagement rings!
C and I were working within a modest budget, and gemstone rings are perfect for smaller budgets. With that in mind I've scouted out some gemstone rings available on the high street that would make for lovely engagement rings. (Btw, high street rings is a whole other potential blog topic- I'll just say that there's nothing wrong with shopping on the high street for your engagement ring! We stuck to the high street and I'm not ashamed to admit it). Hope you enjoy browsing!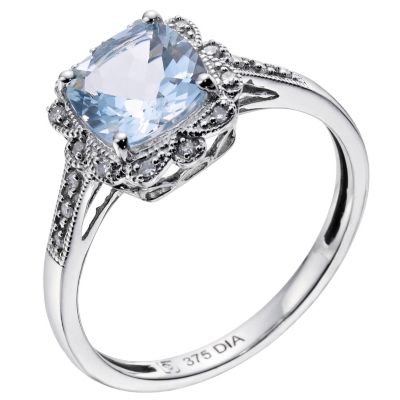 9ct White Gold Aquamarine and Diamond vintage style ring, ?350, Ernest Jones. 
How beautiful is this?! This is my favorite out of the ones I've found. I love aquamarine. It's my favorite gemstone, and the vintage inspired design here is just lovely. I bet it would look great with a
white gold wedding band
. And how original would it be to have a colored ring? Rather than the usual diamond. The funny thing is, I asked C what his favorite gem stone is and he said anything turquoise or blue as that's what he imagines his soul would be if it had a color! Gah I could kick myself sometimes for being so narrow-minded! Aquamarine is absolutely beautiful.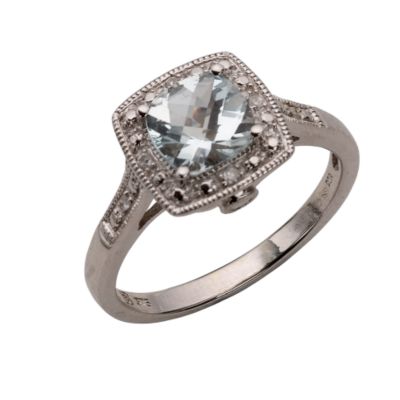 9ct White Gold Diamond and Aquamarine vintage style ring, ?299, H Samuel . This is the very ring I dismissed when picking my engagement ring. The one C said to try on. But I was so obsessed with having a diamond that I didn't bother. It's so pretty! I love the vintage look of it and the aquamarine stone, of course.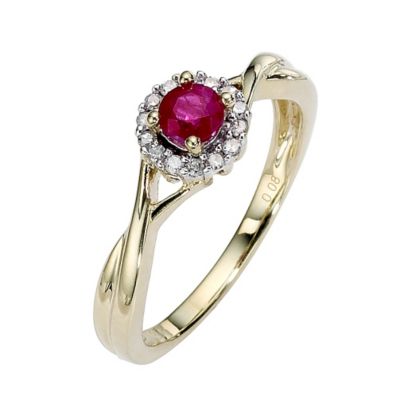 9ct Gold Treated Ruby and Diamond ring, ?349, H Samuel. There's something classic about rubies and this ring seems very elegant. Understated but romantic, and rubies go so well with yellow gold.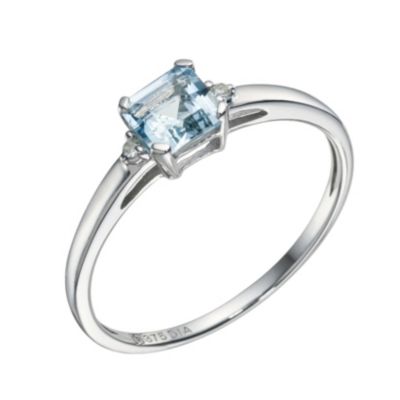 9ct White Gold Blue Topaz and Diamond Ring, ?149, H Samuel. This looks so clean and classic. I love the pop of blue and I imagine this would look great with a plain white gold wedding band. Isn't it a great price? It looks expensive and timeless. Sigh.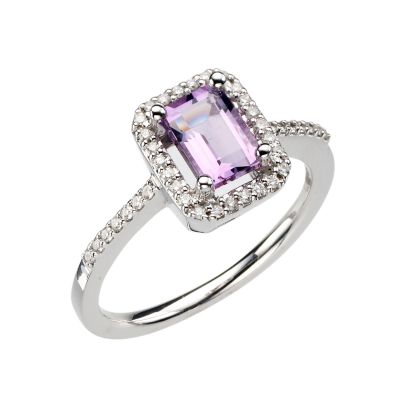 9ct White Gold Amethyst and Diamond ring, ?499, Ernest Jones. Proof that a small budget doesn't mean you have to compromise on bling! This is my fantasy ring, the type I'd wear if I was a Kardashian and swanning around LA. I can't help but love it, and I urge you to go for it if it's your kind of ring! It's definitely eye catching.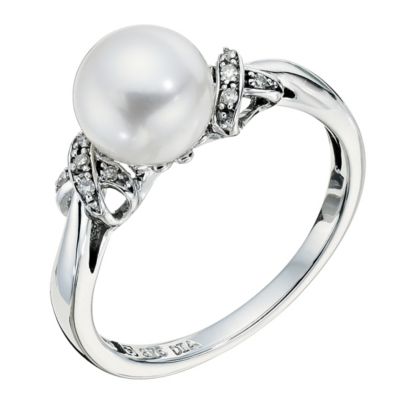 9ct White Gold Cultured Freshwater Pearl and Diamond ring, ?275, Ernest Jones. Why not go for pearl? I love pearls and always wear pearl earrings and bracelets. I've never come across anyone wearing a pearl engagement ring, but that doesn't mean you can't. Why not if it's what you like?
9ct White Gold pear shape created sapphire and diamond ring, ?350, Ernest Jones. 
Sapphires have become hugely popular due to Kate Middleton's engagement ring, but I found this one in a different shape to the typical round cut ones available at the moment. I'm kind of intrigued by the pear shape and actually quite like it, although it's not something I'd have thought I'd like. It's great that you can find something slightly different for a reasonable price.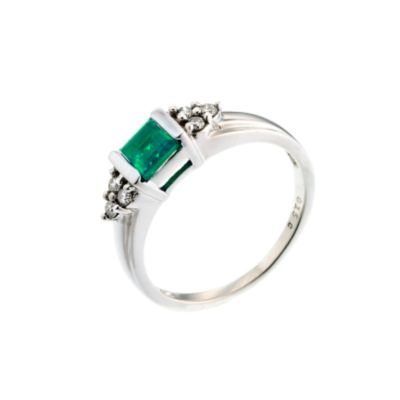 9ct White Gold created Emerald and Diamond Ring, ?499, Ernest Jones. I like the square cut of the emerald and the diamonds on either side, and although I'm a fan of white gold, emeralds also look beautiful with yellow gold. Lots of the emerald rings I researched where quite expensive but this seems like a good price.